GALVANIZING
Galvanizing steel structures or galvanizing iron parts are now very popular corrosion protection process for iron and steel products globally. The galvanizing process is a corrosion protection system discovered some three hundred years ago. Galvaco Industries Sdn. Bhd. is a specialist Hot Dip Galvanizing company in Malaysia and provides galvanizing services. The Hot Dip Galvanizing process is a Corrosion Protection process for Steel and the galvanizing process produces a zinc coat formed and metallurgically bonded to the base steel. This galvanizing process zinc coat is a superior, reliable and durable protective coating on steel..
details
.
Noise Barrier Walls with Hot Dip Galvanized "H" Beam Support Posts installed on parapet walls along the edge of bridges and elevated highways
, Hot Dip Galvanized Highway Guardrails,
Children Play Stations, Decorative Poles, Decorative Street Light Poles are Hot Dip Galvanized and Duplex Coated. For more information on hot dip galvanized products
Contact us
Bolts and Nuts for many types of Industrial Applications are Hot Dip galvanized for Corrosion Protection ...
Centrifuge Galvanizing
, Guardrails, Highway Guardrails are Hot Dip Galvanized ..
Applications and Products
1) The hot dip galvanizing process, The properties of the unique zinc coating, Applications of Hot Dip Galvanizing, Hot dip galvanized bolts, nuts & threaded fasteners, The economics of Hot Dip Galvanizing, ...
Hot Dip Galvanizing
2)
Corrosion of steel
, Why is a paint coat different from a hot dip galvanized sacrificial zinc coat? ...
Corrosion of Steel
Painting produces a Barrier Coat on steel surface. Careful preparation of the steel surface is very important to prevent premature paint failure whereas compared to the Hot Dip Galvanizing produces it produces a Sacrificial Zinc Coat and in event of scratches or deep cuts on the surface the zinc will corrode first instead of the steel.
3)
Design for hot dip galvanizing
and hot dip galvanizing
Standards and Specifications
...
Design and Specifications
4) 5 Effective methods of corrosion protection for steel....
details
5)
Hot dip galvanizing benefits
- There are many great reasons such as easily available and easy to apply. Lowest first cost and lowest long term cost. Very low to no maintenance for hot dipped galvanized steel products. Very durable, long lasting and well accepted toughest coating for steel products in many applications. Complete corrosion protections for both external and internal surfaces of steel. Very easy to inspect and to erect galvanized steel structure which is also very reliable and a proven corrosion protection system . Finally the automatic protection of damaged areas during transportation and installation due to the sacrificial protection of steel by zinc, a more active metal
6)
Cold galvanizing paints are normally spray type paint with zinc dust addition...
Applications & Products
7) For further discussion visit our blog
galvaco.blogspot.com
ABOUT US
Brief Introduction, For Enquiries & Background Information
GALVANIZING PROCESS
General Information, Hot Dip Galvanizing Process, Why Hot Dip Galvanizing Steel protects steel Against Corrosion and Rust, Thickness Measurement of the Zinc Coating, Appearance of Hot Dip Galvanized iron Products, How Long would the Hot Dip Galvanized steel last, What can be Hot Dip Galvanized, What is the Cost to Hot Dip Galvanized steel product, Can paint be applied on Hot Dip Galvanized steel or galvanized iron surface, What to watch out in the fabrication of steel for Hot Dip Galvanizing Process, Why is the hot Dip Galvanized steel product sometimes dull gray and sometimes yellow greenish.
Part 2

---
STEEL IN CONCRETE - Facts and Information
DESIGN & SPECIFICATIONS
For Specifications relevant to the the Hot Dip Galvanizing Process and for other Hot Dip Galvanized steel products.
APPLICATION OF HOT DIP GALVANIZING IN MALAYSIA
HOT DIP GALVANIZED STEEL PRODUCTS
The emphasis of our site is on
Protection of steel against rust or corrosion by the Hot-Dip Galvanizing method,
If these topics are of interest to you or if you did not find the relevant information at the present moment, please contact us immediately or visit us again later.
Please refer to copyright and our terms and condition for use of information in this website. The information provide are presented as accurate as we believe it to be so use are at your own discretion. We assume no liabilities, legal or otherwise, whatsoever to anyone.
GALVANIZING COMPANY IN MALAYSIA

We are a galvanizing company in Malaysia located in Shah Alam, in the state of Selangor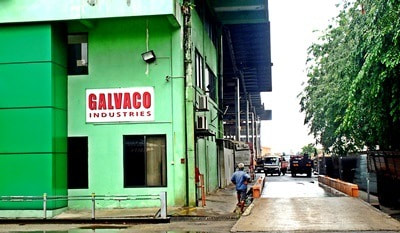 Galvaco Industries Sdn Bhd, Lot 16, Persiaraan Sabak Bernam, Sek 26, Hicom Industrial Estate, 40000 Shah Alam, Selangor, West Malaysia.
Tel: +603 5191 4216 |
Fax: +603 5191 4217
---
BACKGROUND INFORMATION ON THIS GALVANIZING COMPANY IN MALAYSIA:

Our galvanizing company in Malaysia was incorporated on the 1st April 1983 its name changed from Fittters Enginering Sdn Bhd to Galvaco Industries Sdn. Bhd. on 19th March 2009. The principle business of Galvaco Industries Sdn. Bhd. is providing outstanding
hot-dip galvanizing services, sales of hot-dip galvanizing related products and equipment
. We provide assistance to specifiers and fabricators in the area of designing and fabrication of complicated steel structures for hot dip galvanizing. Proper location of drainage and ventilation openings are essential to minimize distortion and to achieve smooth and uniform finish. We can also assist you in the application of additional painting system for further corrosion protection or for achieving the required esthetic or architecture finish. Our customers particularly value our ability to assist them in solving their problems with hot-dip galvanizing services of difficult and complicated steel structures, quickly and on fast turnaround which in many cases all within 24 hours.
This is a structural steel galvanizing plant with spinning facility and the zinc bath 8m(L)x1.2m(W)x2.0m(D) located at Hicom Shah Alam.
For spinning off zinc in galvanizing steel that are threated, our galvanizing process for small parts such as galvanized iron brackets or galvanized steel threaded items such as bolts and nuts, washers, spring washers, J-bolts, stud bolts and all sorts of threaded fasteners, please call or email to us for advice or to request for a quotation.
OUR GALVANIZING COMPANY ADDRESSES

Our businesses are:
Galvanizing Steel structure & Spin or Centrifuged Galvanizing of iron bolts and nuts and we are located at No 16 Persiaran Sabak Bernam, Hicom Shah Alam, 40000 Shah Alam. Selangor, Malaysia

Our principle business is in galvanizing metal and the protection of steel against rust or corrosion by the Galvanizing Process. We can also provide advice on suitable galvanizing paint or what galvanizing material are most suitable in your design and application.

FOR GALVANIZING ENQUIRIES

GENERAL NOTES:
If you did not find the relevant information at the present moment, please visit us again later.We are currently creating content for this section. In order to be able to keep up with our high standards of service, we need a little more time. Please stop by again. Thank you for your interest!