| | | | |
| --- | --- | --- | --- |
| | | | |
| Pressed Steel Tanks | Guardrail, Highway Guardrails | Playground Equipment | "J" or "L" Bolts & Nuts |
Products that are Hot Dip Galvanized such as the Pressed Steel Tank for water storage and steel towers, Guardrails,Highway Guardrails or Highway Safety Crash Barriers. Playground Equipment and Garden Furniture are normally Hot Dip Galvanized and Duplex Powder Coated for its colorful appeal...for more information on these products contact us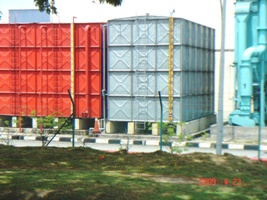 PRESSED STEEL WATER TANKS - These are pressed steel panels bolted together for water storage typically for fire protection systems, domestic water and air conditioning systems in buildings. These water storage tanks are normally supplied complete with covers, internal and external ladders, water level indicators and are mostly hot dip galvanized for corrosion protection. The pressed steel water storage tanks are bolted together from the outside with sealastrip and bitumum compound for water tightness. These pressed steel tank panels are held together with hot dip galvanized internal trusses and anchorage systems

PRESSED STEEL WATER TANKS - These water storage tanks are constructed from standard galvanized pressed steel tank panels of 1.2 m x 1.2 m and of various steel thickness from 3 mm, 4.5mm and 6 mm thickness. A typical standard tank size of 1.2 m x 1.2 m x 1.2 m (ht) would hold a maximum of 1728 liters of water. Bigger tanks sizes are in multiples of the standard unit and may be constructed to hold up to 100,000 liters (3.6 m x 6 m x 4.8 m (ht)) or larger volumes.

DAILY APPLICATIONS OF HOT DIP GALVANIZING

The selection of a steel coating system is an integral part of all engineering design. The main consideration for the engineer in the selection of the most suitable corrosion protection system would be the performance of a steel coating and the economics of the application of the steel coating system. There is no other corrosion protection system that could match the performance and economics of Hot dip galvanizing

APPLICATIONS OF HOT DIP GALVANIZED STEEL IN THE FOLLOWING SECTORS OF OUR ECONOMY

| | |
| --- | --- |
| | |
| 1) POWER GENERATION & TRANSMISSION | 2) INFRASTRUCTURE DEVELOPMENT |
1) POWER GENERATION AND POWER TRANSMISSION

In the building of a power station for power generation, steel is a major construction material. Galvanized steel is used in platforms, equipment buildings, stairs and handrails. In the area of fuel supply to the main power generating plants galvanized steel conveyor systems are common in a coal fired power station. Cooling water, water reticulation and fire protections systems consume huge amounts of galvanized steel in the form of piping and it fittings.

As for power transmission every piece of steel in a transmission tower is completely galvanized from the main steel frame, every piece of bolt and nut used to fasten the angles together to the cable support systems are completely galvanized. The are now many transmission towers that are also painted with special paint system for identification purposes.

2) INFRASTRUCTURE DEVELOPMENT

Government of many countries now invest and spent huge part of their budgets in improving the infrastructure such as road highways and expressways, railways, Light Rail Transport system (LRT) and Mass rapid Transportation system (MRT) , Port terminals and airport facilities. These projects consume huge amounts of exposed steel and as such hot dip galvanizing is the preferred corrosion protection system.

As for other developments such as schools, hospitals, community halls and other public places galvanized steel are mainly in galvanized products such as galvanized water tanks for fire protections systems, street lights, safety barriers and road and drain covers.

Hot dip galvanized reinforcement steel was only used in critical construction areas such as coastal or marine concrete structures. In the last decade the use of hot dip galvanized reinforcement steel increased with the rapid expansion of the road, highways and expressways. Steel rods and strips for reinforced earth (RE) walls and soil nails are always hot dip galvanized. Guardrails, crash cushions, decorative street lights, high masts, pedestrian overhead bridges, noise barriers, parapet handrails are some of the other products that are corrosion protected with hot dip galvanizing

3) TELECOMMUNICATION TOWERS

Telecommunication steel towers are difficult structures to maintain considering its location which normally are difficult to access since it is situated on hills slopes and on top of mountains. For easy installation these Steel Towers are fabricated from Steel Tubes in different sections and steel Angles of various sizes and lengths, Hot Dip Galvanized and fastened with Centrifuged Hot Dip Galvanized Bolts, Nuts and Washers. These 3 Leg Telecommunication Towers are 100% Hot Dip Galvanized and Duplex coated for long term corrosion protection and aerial Identification.

4) BUILDING AND CONSTRUCTION

| | | |
| --- | --- | --- |
| | | |
| Twin Towers | KL Tower | |
The Petronas Twin Tower in Kuala Lumpur and the Kuala Lumpur Tower are prestigious projects in Malaysia. For durability most steel are Hot Dip Galvanized and Duplex coated. Commonly found in the open areas are Forged Welded Gratings hot dip Galvanized, Garden Lighting Poles Hot Dip Galvanized and Children Play Stations all Hot Dip Galvanized and Duplex Coated.

5) MINING

6) OIL AND GAS PRODUCTION

7) AGRICULTURE AND ANIMAL HUSBANDRY

8) FARMING