CORROSION PROTECTION OF STEEL IN MALAYSIA

Signage
Tranmission
Towers
KL Tower
KLCC
Twin Tower
Steel is widely used in the Construction Industry in Malaysia, especially in the building of high rise and outdoor steel structures. Steel without any corrosion protection system corrodes very quickly, especially in Malaysia where the humidity is high and rains frequently.

DIAGRAM 1 - BASIC PRINCIPLES OF CORROSION PROTECTION OF STEEL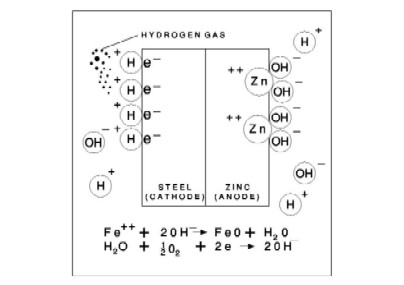 Corrosion is an electrochemical process and occurs because all metals in its pure form reacts with oxygen from the environment to form an oxide. The pure metal breaks down and return to its natural stable steady state condition. The catalyst to corrosion is oxygen in air, water and moisture from the environment.

On the surface of steel there exist areas of different electrical potential when in contact with water or moisture being the electrolye. These small areas behave like small electrical cells. The negatively charged electrons flow from anode to the cathode. These chemical process of the ion flow produces iron oxide or rust on the anode and hydrogen gas on the cathode.

When zinc is present on the steel surface, the zinc being more electrochemically active, automatically becomes the anode. Negatively charges electrons from the zinc surface flow to the cathode to form hydrogen gas on the surface of steel. This is the unique feature of the cathodic protection where there is actually no chemical reaction of the steel. Zinc on the other hand becomes zinc ions which combines with the hydroxyl ions from water and is slowly consumed.

Corrosion also happens when dissimilar metals come into contact with each other. Two dissimilar metals in contact and in the presence of an electrolyte becomes an electrolytic cell. The more active metal being the anode which disintegrates or corrodes whereas there is no corrosion in the cathode, the more noble metal. Because of this basic understanding of how and why corrosion happens engineers are able to select the most suitable corrosion protection system.

THE GALVANIC SERIES OF METAL

The understanding of the galvanic series of metal in a sea water electrolyte is important to corrosion protection. In the galvanic series are metals arranged in the order of electrochemical activity in sea water electrolyte. Metals high in the galvanic series are Magnesium, Sodium, Zinc, Aluminum and Cadmium. These metal protect steel lower in the galvanic series and other metals such as Lead, Tin, Nickel, Brass or Copper. Zinc higher in the galvanic series are electronegative, a more active metal thus becomes the anode in an electrolytic cell, whereas steel is the cathode. Metals higher in the galvanic series provide cathodic protection to lower metals such as steel.

Table 1 - THE GALVANIC SERIES OF METALS

| | | | |
| --- | --- | --- | --- |
| Magnesium | | Anodic | Active Metal |
| Zinc | < Zinc | (Electronegative) | |
| Aluminum | Protects | | |
| Cadmium | V | | |
| Steel | < Steel | | |
| Lead | | | |
| Tin | | | |
| Nickel | | (Electropositive) | |
| Brass | | Cathodic | Nobel Metal |
CORROSION OF STEEL

Besides the presence of an electrolyte another condition for corrosion to happen is the different electrical potential. Since steel is formed by the mixing of different material at very high temperature and then formed or rolled into different shaped the surface is non-uniform. This non-uniform surface exist many small electrolytic cells in the presence of an electrolyte. In these electrolytic cells are both anodes and cathodes.

Within each of these cells electrons flow from the anode to the cathode. The iron atoms from the anode becomes positively charged and combines with the negatively charged hydroxyl ions in the electrolyte to form iron oxide or rust. The negatively charged electrons at the cathode on the other hand reacts with the positively charged hydrogen ions to form hydrogen gas.

5 EFFECTIVE SOLUTIONS TO PROTECT STEEL AGAINST CORROSION:

1) HOT DIP GALVANIZING - A METALLURGICAL SACRIFICIAL CORROSION PROTECTION SYSTEM

Hot dip galvanizing is now widely used by engineers to protect outdoor steel structures and now by architects for indoors applications due to its esthetic industrial appeal. Hot dip galvanizing is an effective and economical method of applying a protecting sacrificial zinc coat on steel. This abrasion resistant zinc iron alloy envelop protects steel from corrosion. These alloy layers the Eta, Zeta, Delta and Gamma alloy layers formed metallurgically, varies in hardness. The Delta zinc alloy layer which is between 7 to 12 percent iron has a measured hardness of 244 DPN (Diamond Pyramid Hardness) is harder than the base steel at 159 DPN. These alloy layers wears off at a very slow pace thus giving rise to this very unique and durable corrosion protective zinc coating on steel.

| | |
| --- | --- |
| | |
| Diagram 1 | Diagram 2 |
The presence zinc protects the base steel in event of a break in the zinc coat. There will be a galvanic cell formed and steel being the cathode will not corrode when in contact with zinc.

| | |
| --- | --- |
| | |
| Diagram 3 | Diagram 4 |
Steel rust when the pain film breaks. Rust which is larger in volume grows and creep under the paint layer lifting the paint layer. Corrosion spots like this appears on the steel surface and requires costly repair works

2) PAINTING - A BARRIER CORROSION PROTECTION SYSTEM

As mentioned earlier, unprotected steel corrodes when exposed to oxygen in moisture within the environment. A common and widely used corrosion protection solution for steel is painting. To achieve the desired results the paint system should contain some corrosion inhibitive powder such as zinc powder, zinc dust or zinc oxide mixed with fusible resin either an alkyl for above water surfaces or epoxy, vinyl or chlorinated rubber for chemical resistant system. For a paint system to be effective, thoroughly cleaning the surface such as grid blasting are standard practice in the Oil and Gas Industry.

In many circumstances, it may not be possible to hot dip galvanize very large structures. In such circumstances the common solution is to introduce a paint barrier between steel and the environment. Unlike the hot dip galvanizing process that produces a "sacrificial coat" paint application gives rise to a "barrier coat" on steel. Painting is widely used to protect steel and especially important in protecting large structures such as vessels and ship hulls. The proper preparation of steel such as blasting with abrasive material before the paint application is very important to ensure the paint barrier coat adheres to the steel properly and the paint system do not fail prematurely. In poorly prepared steel, moisture and contaminants trapped under the paint system rapidly causes corrosion to the steel. The corrosion spreads rapidly underneath the paint system and cause blistering and early coating failure.

3) COLD GALVANIZING - A BARRIER CORROSION PROTECTION SYSTEM WITH SOME SACRIFICIAL CORROSION PROTECTION PROPERTIES

Most paint manufacturers now produce paint with small amount of rust inhibitive pigments such as zinc powder or zinc dust mixed into a binder. Spray painting steel with these types of corrosion inhibitive additives are often promoted as cold galvanizing. The embedded inhibitive pigments such as zinc powder provides additional sacrificial corrosion protection to steel in addition to the barrier coat.

Cold galvanizing spray paint are normally contained in aerosol cans. Typically these cold galvanizing spray paint in aerosol cans weight from 350 grams and are portable and easy to carry to job sites or kept in the home garage by handyman or hobbyist to repair damaged small areas in hot dip galvanized steel products or protect small pieces of fabricated steel. It is a better form of barrier coat than normal paint because these cold galvanizing spray paint contained zinc dust. Sprayed on thoroughly cleaned steel this cold galvanizing spray paint provides both a barrier seal and the zinc dust within the barrier seal also provides the sacrificial protection to steel against corrosion and rust formation. Examples of these cold galvanizing spray paint are:

For more information on these cold galvanizing spray or other brands please Contact us

4) ZINC ELECTROPLATING

Zinc electroplating is another form of cold galvanizing and normally widely used for protecting small steel components such as screws, nails and fasteners. These process produces very smooth and bright steel parts. The electrical zinc deposition process introduce very small amount of zinc on the surface of steel, typically 60 g/m2 as compared to hot dip galvanized steel of between 300 g/m2 to 900 g/m2. This zinc electroplating corrosion protection method is frequently used if the steel components are not exposed to water and corrosion is not a major concern.

5) CATHODIC PROTECTION OF STEEL

We are currently creating content for this section. In order to be able to keep up with our high standards of service, we need a little more time. Please stop by again. Thank you for your interest!